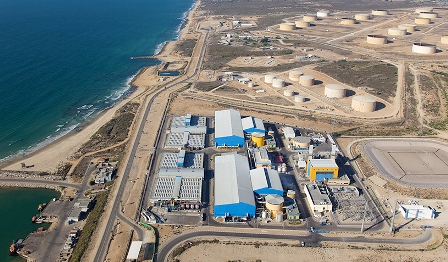 Water Desalination Plant In Kuwait
We all know how the Gulf countries suffer from extreme environmental conditions, especially Kuwait. So, a country like Kuwait always resorts to building a water desalination plant. SoftWater is one of the best companies that can build a water distillation plant since it's an exclusive agent for the German company Ecosoft.
How Softwater Builds A Water Desalination Plant In Kuwait With Ecosoft?
Mainly, the principle idea of water desalination plant is removing the salt from the water. Therefore, we provide drinkable water in Kuwait for human use and for agriculture. During the past few years, there have been many ways for water desalination in Kuwait.
But, now SoftWater is using one of the best and most advanced water desalination techniques using water osmosis. Generally, water osmosis offers wonderful results and many advantages, unlike other water desalination techniques.
Practical Examinations For Desalination Plants In Kuwait With Ecosoft:
Before SoftWater jumps into starting any new project, we first conduct a feasibility and practical study. In this case, we study the desalination plants in Kuwait with Ecosoft by knowing the following:
Daily station productivity.
The Project location: We can build it in a ground floor, or 4 m × 4 m, and there must be meters for electricity & water. Also, we make sure of the availability of sewage in this place.
Water source: It can be wells, groundwater, or municipal water.
ROO water treatment system & machinery used: We determine the purification system (reverse osmosis) or any other method by use. Moreover, we determine the number of production lines, and the cost of each line is calculated.
Product: It is purified water, which is filled in a jar or bottles.
Distribution method: Trolleys and other means.
Total cost: SoftWater calculates it according to the quantities produced and distributed, through which all expenses are deducted. We calculate the rent of the place, the payment of electricity and water bills, the wages of workers, transport vehicles, maintenance and other expenses. Finally, we ultimately calculate the rest which is net profit.
Softwater Water Desalination Plants In Kuwait:
For anyone who wants or thinks about building and managing a water desalination plant in Kuwait, you can use our staff of SoftWater. We're an exclusive agent in Kuwait for the German company Ecosoft, who has been working in the field for several years and has a great experience in the field and will lead you.
Also, we provide specialized engineers in the field of construction of water desalination plants. Moreover, we provide the German filters from Ecosoft and the best services, discounts, products. The materials we choose are wonderful as we offer the quality and efficiency that you can benefit from at all times. We care to provide a regular maintenance team, which runs throughout the day.
SoftWater Company is the best Ecosoft provider company in Kuwait:
SoftWater is one of the most best Kuwaiti companies in the establishment and management of water desalination plants. Also, we are the first exclusive agency in Kuwait to provide the  Ecosoft's products.
SoftWater was considered one of the first companies in the field of technology for water treatment and construction of desalination plant in Kuwait and across the entire Arab world.
You should hire SoftWater Company because:
The quality of our products, high efficiency, and our accuracy in performance.
You can enjoy Ecosoft products for a long period of time.
Our products are suitably suited to all types of companies homes, and factories of whatever size.
All of our products have a guarantee and after-sales service.
Its service system is available 24 hours a day.
We provide a line of complaints and proposals.
We are located in many different places within all the cities of Kuwait.